Metal Recyclers for over 90 years!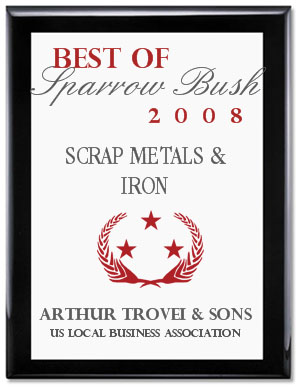 We are scrap metal recycling center located in Orange County, New York. Our yard is in Sparrowbush, NY, just outside of Port Jervis and not far from Middletown. We are recyclers of scrap iron, non-ferrous metals, old cars, trucks, tires, and equipment. We offer roll off bin service with 20, 30, and 40 yard containers for a fee. We also pick up junk cars for a fee for removal and disposal. Call for current prices!

We Buy: scrap iron and metals such as tin, steel, stainless steel, copper, aluminum, brass, cast iron, and more. Call on current pricing.
We Accept: white goods and light iron sometimes for free or sometimes at a small charge.
We Accept: refrigerators, freezers and air conditioner units but we do charge about $20 per unit for freon removal and disposal.
We Accept: car and truck tires at a charge. Ask for current pricing.
We DO NOT Accept: barrels, pails, containers or cylinders that have contained oils, gas, solvents, or chemicals.
We DO NOT Accept: paper, wood, glass, plastics or any other waste items or combustibles.
We DO NOT Accept: chain link or chicken wire fence.